Technology continues to shrink the world. There is no choice other than to participate in the global community. Science and technology is too precious a resource to be restricted from drawing the world together. That is what the 21st Century is all about —George Kozmetsky 
In 1977, Dr. George Kozmetsky (1917-2003) founded the IC² Institute at The University of Texas at Austin while he was Dean of the College of Business Administration and the Graduate School of Business. A lifelong educator, Dr. Kozmetsky was a co-founder and former Executive Vice President of Teledyne, Inc., Kozmetsky was awarded the National Medal of Technology in 1993 as an acknowledgment of his decades of exceptional contributions as a mentor and champion of high technology entrepreneurs including Michael Dell, Dell Computer Corporation, and Jim Truchard, National Instruments.
George Kozmetsky has had far-reaching influence in a variety of areas of endeavor related to technology and education. His contributions have resulted in employment for tens of thousands of Americans and billions of dollars of exports. He has been intimately involved in facilitating technology transfer from the public, federal, and university sector, into private enterprise. Dr. Kozmetsky has counseled, nurtured, and developed more than a hundred companies; he has helped launch them, served on their boards, and assisted in identifying key personnel and niche markets, and on occasion helped finance them. His dynamic efforts resulted in the establishment within The University of Texas at Austin of the Austin Technology Incubator, which combines economic development and business education; and the Texas Capital Network, which promotes innovative financing for new ventures. His accomplishments have helped bolster our nation's competitive position in world markets.
As a "technological ambassador," Dr. Kozmetsky has consulted with such international institutions and companies as the USSR State Committee for Public Education, the USSR Academy of Science, the State Council on Science & Technology of the People's Republic of China, and Mitsui & Co., Inc., in Japan. He participated in the founding of the Graduate School of Industrial Administration at Carnegie Mellon University. At The University of Texas at Austin, where Dr. Kozmetsky was dean for sixteen years, he pioneered in educational technology and education about technology, revolutionizing the curriculum and the manner in which it was taught. His vision, his energized drive, his ability to call on the resources of major corporations throughout America, his concept of educating students by incorporating computers and technology in the classroom, and his far-reaching motivational leadership enabled him to lift the College and Graduate School of Business into the top rank in the nation. More than twenty thousand students graduated under his deanship. Dr. Kozmetsky's activities will have long-lasting effects as the various enterprises inspired by his technology-transfer skills and entrepreneurial spirit continue to grow. They will increase employment, creating commercial vehicles for the transfer of intellectual property held within our public institutions in the United States today.
Dr. Kozmetsky is Accepting the National Medal of Technology from President Clinton (1993)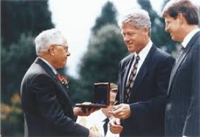 "As a first-generation American, I find it very humbling — indeed beyond my imagination — to be given this award. Whatever I have accomplished is the result of being an American plus great good fortune. I had wonderful parents. I have had a wife and children who were always with me, an excellent education, wise mentors, friends who inspired and supported me, exciting entrepreneurial ventures, and the opportunity to participate in cutting-edge programs and projects that link the academic, business, and government sector for the general welfare."— George Kozmetsky
"Mrs. Kozmetsky and I feel very strongly that individuals who have been so privileged ought to contribute to society. To be honored for simply being a responsible citizen is overwhelming, and I am deeply grateful."— George Kozmetsky